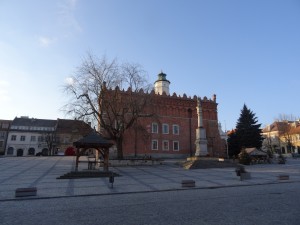 The conference will be held in the picturesque town of Sandomierz located in south-eastern Poland in the Świętokrzyskie voivodeship.
Sandomierz is one of the oldest and historically most significant cities in Poland. The town came into existance in the Middle Ages, and quickly became the important trade center, because of its convenient location at the junction of Vistula and San rivers.
The town blossomed in the time of Renaissance. Most of the historic buildings surrounding the picturesque market-square were build in that period. Today the population of the town is around 24,621 inhabitants.
Sandomierz is predominantly known for its beautiful Old Town, underground tourist route (the part of the underground system of multi-storey chambers and tunnels), excellent vineyards and 500 million years old Pepper Mountains.
Nearby Sandomierz are located a large deposits of unique striped flint (pl. krzemień pasiasty). Because of its rarity and unique look, local striped flint is in use today in jewellery. Sandomierz is also known as a home town of Father Matthew, a hero of the popular criminal tv series.
To read more about Sandomierz please visit the following site:  http://old.um.sandomierz.pl/index.php/en/